The Life and Musical Impact of Joseph Haydn
As one of the leading destinations for piano lessons in New York City, NY Piano School seeks to share information regarding great composers and their works with our audience. We hope you find this article about Haydn helpful, and if you'd like more information about lessons in our studio, in your home, or online, please get in touch.
The First Viennese School
The First Viennese School, characterized by classical composers like Haydn, Mozart, and Beethoven, marked a significant shift in musical composition from the complex counterpoint of the Baroque era to motif-based compositions. During the Baroque period, counterpoint music, exemplified by composers like Bach, was characterized by the interweaving of multiple, independent melodic lines, creating a dense and intricate musical texture.
In contrast, the First Viennese School favored motif-based compositions, where a short, distinctive musical idea or motif was developed and transformed throughout a piece. This approach allowed for greater thematic unity and emotional expression. While counterpoint was not abandoned, it was no longer the primary focus; instead, these composers used it as one of many tools to develop their motifs.
This transition also reflected broader changes in the cultural and intellectual landscape of the time, moving towards clarity, balance, and expression of individual emotions, hallmarks of the Classical era. The works of Haydn, Mozart, and Beethoven exemplify this shift, showcasing a clearer and more homophonic texture, where the melody stood out against a simpler accompaniment, making their music more accessible yet deeply expressive.
For an example of a motif-based composition by Joseph Haydn, you can look into his symphonies, such as Symphony No. 94, "Surprise," particularly the second movement. This piece is known for its distinct motif that is cleverly developed throughout the movement.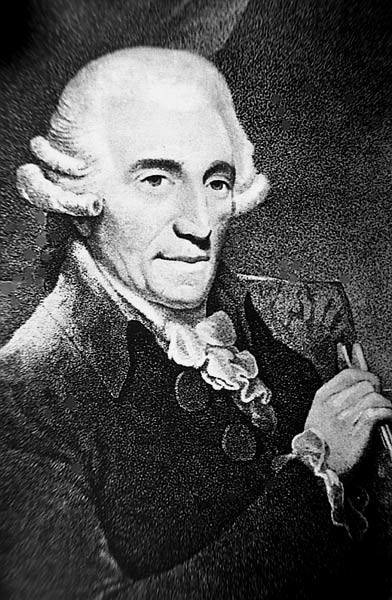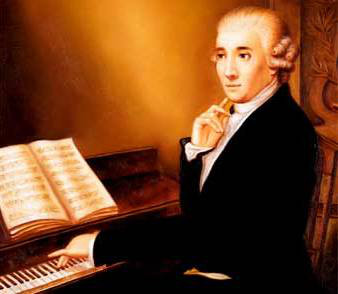 Where and When Was Haydn Born?
Haydn was born in 1732, in a cottage right near the border of Austria and Hungary. He was the second of twelve children.  As a child, he was sent to Vienna, where he learned to play the keyboard, violin and kettledrum. He also played in the church orchestra.
What Were Haydn't Duties For The Esterhazys?
Later, Haydn served the Esterhazys, in the Eisenstadt castle, where he attended to the prince, composed, conducted, and also was in charge of the library, musical instruments, and musical staff.
While in service of the Esterhazys, Haydn's duties also included composing church music, such as settings of the Mass, including the 'Nelson' Mass. Franz Joseph Haydn wrote over a hundred symphonies, including the rather well-known 'Surprise' Symphony. He wrote string quartets, almost 50 keyboard sonatas, oratorios, and more.
Among his more well-known works are 'The Creation' and 'The Seasons', as well as a delightful trumpet concerto, written for the keyed trumpet, which, at the time, was a new instrument. Interestingly, Haydn wrote quite a number of pieces for the 'baryton', a bowed string instrument with a twin set of strings.
What Did Joseph Haydn Do After He Worked For the Esterhazys?
Joseph Haydn's post-Esterházy period marked a significant and prolific phase in his musical career. After nearly three decades of service to the Esterházy family, Haydn found himself largely free of court obligations in 1790, following the death of Prince Nikolaus Esterházy. This newfound freedom coincided with a period of great personal and artistic growth, as Haydn's reputation as a composer had spread across Europe.
In the years that followed, Haydn embarked on two successful trips to London, in 1791-1792 and 1794-1795, at the invitation of the impresario Johann Peter Salomon. These visits were incredibly fruitful; he was warmly received by the London public and composed some of his most famous works, including the "London" Symphonies (Nos. 93-104). These symphonies showcased Haydn's mature style, characterized by bold thematic development, innovative orchestration, and a refined sense of form and expression. They solidified his status as the leading symphonist of his time.
Haydn's later years were also marked by the composition of other significant works. Among these were his last major choral works, "The Creation" (1798) and "The Seasons" (1801), both of which were inspired by the large-scale choral traditions he encountered in England. These oratorios are celebrated for their vivid orchestration, imaginative depiction of scenes, and profound sense of spirituality. They reflect Haydn's deep engagement with nature, religion, and the human condition.
Despite his success, Haydn's final years were tinged with a sense of melancholy, partly due to his declining health and the political turmoil of the time, including the Napoleonic Wars. His output slowed, and his last public appearance was in 1808, a year before his death.
Haydn passed away in 1809, leaving behind a legacy that shaped the course of Western music. His post-Esterházy period, in particular, is seen as a testament to his enduring creativity and adaptability. The works from this time not only underscore his mastery of the Classical style but also foreshadow the Romantic sensibilities that would come to dominate the 19th century. His influence on later composers, notably Beethoven, and his contribution to the development of the symphony and string quartet genres, remain unparalleled.
Start Lessons at NY Piano School
We offer piano lessons in the Upper West Side and elsewhere in NYC, and we would love to work with you. We help kids, teens, and adults, and there is no audition process to enroll. We love working with every skill level and type of ambition.