Mozart: Exploring the Great Composers Part 1
Who is Wolfgang Amadeus Mozart?
    Wolfgang Amadeus wrote music of wonderful beauty, and he wrote it in almost every genre. Concertos, sonatas, symphonies, string quartets, opera, wind quintets, a tremendous Requiem, and so much more.
Though it can be said that in music, 'quality' is infinitely more important than 'quantity', Mozart's productivity and the sheer volume of his output are impressive to say the least.
His wonderful sense of form, his subtle feeling, and a ravenous creative imagination, all helped to make him one history's greatest composers.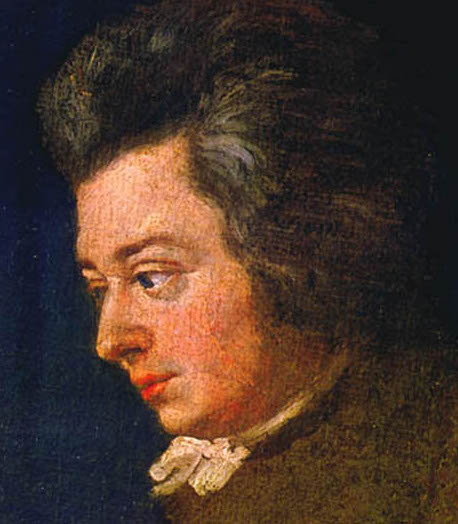 Composer and performer from a young age
    Wolfgang Amadeus Mozart was born in the archbishopric of Salzburg, a territory which is now Austria, in winter of 1756. Young Wolfgang excelled at the keyboard as well as the violin, and began composing from a very young age. His father, Leopold Mozart, was an accomplished musician — a composer and a violinist —in his own right. Leopold must have been deeply proud of his immensely talented son, and instructed him in music, later organizing performance tours for Wolfgang and his sister, Nannerl, who was also a talented young musician.
    Between 1773 and 1777 Mozart worked in the court at Salzburg, as a concertmaster of the court musicians. He was unhappy in Salzburg, and travelled to other cities, attempting to get a foothold. After spending a while in Paris, Wolfgang returned to Salzburg, where he took another job at the court. Unhappy with his post at the court, Mozart looked for employment elsewhere. His frequent absences travels and absences from the court eventually led to dismissal from his position.  This led to a relocation to Vienna, where he began a career as a freelance composer.  This was an unusual move!  Composers of those times relied on court patronage!
Mozart was successful in Vienna, and made a decent living, and it was in the Vienna period that he wrote some of his most famous and most loved operas.
Simply put, Wolfgang Amadeus Mozart wrote some of the greatest music ever written. From the most lighthearted and playful works, to very deep and profound music— his boundless imagination and drive to create, resulted in a great many works, regularly performed and beloved to this day.